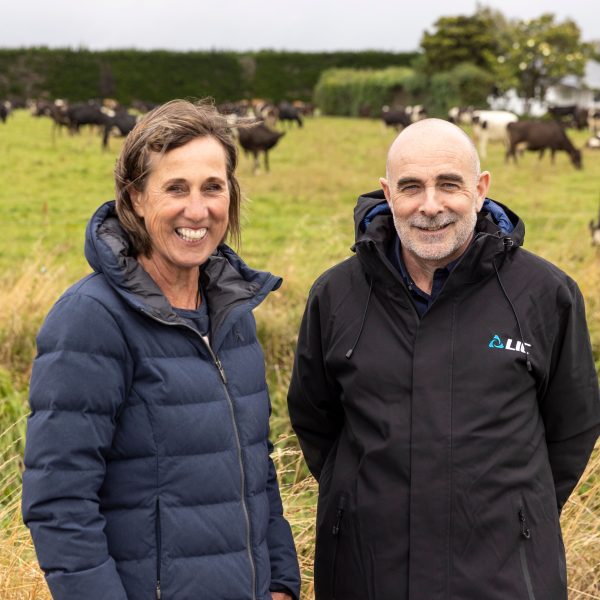 Fernside dairy farmer Julie Bradshaw has reduced her herd by 15 cows while maintaining the same level of milk production by using genomic information provided by Livestock Improvement Corporation's (LIC's) North Canterbury Agri-Manager Paul Bau.
Fernside dairy farmer Julie Bradshaw has reduced her herd size by 15 cows while maintaining the same milk production levels using genomic information provided by Livestock Improvement Corporation (LIC) that enables her to make informed decisions about which animals to retain for long term genetic gain.
Julie is participating in Next Generation Farming; a project to help farmers meet tough nitrate caps while maintaining their viability. As part of this project, farmers like Julie are using innovation and demonstrating its productivity and environmental benefits to their neighbours in the region and beyond.
Waimakariri Landcare Trust (WLT) and Waimakariri Irrigation Limited (WIL) have partnered with the Ministry for Primary Industries (MPI) for the project, with support from MPI's Sustainable Food and Fibre Futures fund along with Environment Canterbury, Ballance, and DairyNZ.
One of Julie's key goals for the two-year innovation project is using genomic data to refine herd numbers. Her current herd sits at 400 cows after she reduced the herd by 15 cows earlier this year and she is comfortable with losing another 15 cows to further lower the herd size if she can still achieve the same milk production rates.
"Over the years, the quality of the information in our genetic tests has improved so much that we have greater confidence selecting which females have the potential to make the greatest contribution to our herd's future and we can focus our efforts on those ones. In the current climate we need to ensure that we have the most efficient cows on farm because it is obvious that we will need to reduce our herd numbers further.
"The data we are getting now is amazingly accurate. You can really delve into each cow and calf and evaluate its future value based on science. We also herd test four times per year and the information that we receive is helping us to achieve our goals."
Making decisions based on science provides benefits for both farm operational efficiency and for the environment, says Julie.
"Using the data helps you make good decisions for your farm in both a business and an environmental sense. We need to show that we are playing our part in terms of reducing our impact on the environment as well as running an efficient business."
LIC's North Canterbury Agri Manager Paul Bau says Julie is sitting at the faster end of genetic gain due to her strong focus on genetics, data and accurate record keeping.
"Julie has basically doubled her rate of genetic gain when compared to the national average in the 10-year period. She is part of LIC's Sire Proving Scheme which includes the genomic evaluation service for each of her animals. All calves that are DNA parent verified also receive an individual genomic evaluation. This provides farmers with reliable data which they can use to create the most efficient herd."
Julie says local farmers have expressed interest in learning more about genomics and how science can help them to farm more efficiently.
"Everyone is quite onboard with what I am doing, and I have spoken to a few farmers who are keen to DNA test their herd and see where it takes them. That's where we started off many years ago and while there is a cost involved, the benefits far outweigh the costs because the decisions we make based on data help us to constantly improve and refine our herd."
While it is hard to know how many cows will be in Julie's herd in the future, she says that having reliable genetic data helps to provide a sense of certainty about which animals to focus her efforts on and this is something that all farmers can rely on.
"There will always be outside forces that influence the decisions you make on farm, and we really don't know what sort of reductions we will have to make in the future but having the correct data helps you to make the best decisions for the future of your farm."